Meet Eileen
 and make your digital life easier.
ABOUT
What this hippie knows can help you.
You have spent your life pursuing your dream, honing your skills, perfecting your secret sauce, and it's super cool. You are the champion in your field. Except, no one else knows about it. Yet.
We all have different areas of expertise and different knowledge bases. What I know is technology and I can explain it to people who thought they would never get it. I'm passionate about helping people learn digital media from square one.
For many small business owners getting online can be a daunting task. Some might even feel overwhelmed just thinking about it. That is where I shine. I'm a baby boomer who feels your pain. You are busy enough running your business, much less learning SEO, ROI and KPI s. That is what I do. I'm a geeky old hippy who happens to be a website and social media specialist.
I take care of everything you need to get your site online; keep it up to date, have beautiful graphics, optimize it for SEO, updates, management, security, plug-ins and best practices. I will even teach you how to do your own WordPress website updates if you want to take control of your own website.
As a Social Media and WordPress Manager, I managed the social media accounts (Facebook, Instagram, Twitter and website) for Langley Community Services, Encompass Support Services and the Surrey Food Bank.
My love for photography and playing with images and graphics has synthesized into creating graphics, logos, WordPress sites, digital photo books, slideshows and memes for social media. Besides administrative excellence, I am experienced with social media advertising to help you reach, captivate, engage, and grow potential clients while maintaining a consistent identifiable brand.
When I say I am a "Social Media Expert", I don't mean I know how to play on Facebook. I have been studying social media earnestly since the mid 90's. I am Social Marketing and Hootsuite Certified, proficient with Facebook, Twitter, Google, LinkedIn, Hootsuite, Mail Chimp, Pinterest, Instagram, and YouTube. I study and keep current in SEO.
We all have different talents.
I can't throw a baseball, my poker face is a tell-all, & I was a synchronized swimmer.
What's your superpower?
I've been making websites for over 20 years. When I turned 50, I went to BCIT to study Web Technologies. Like the internet, I have evolved with changing technology. Originally, all sites created by EileenDreams were HTML, CSS, and JavaScript. Now most sites are created on a responsive WordPress platform. Graphics are bigger, load faster and resize for all devices. The internet is always unfolding and growing with the latest trends, techniques and fads. I spend my time taking courses and keeping current. This means you can leave the digital marketing to me so you can focus on your business. My maturity and extremely high administrative performance standards portray professionalism in any environment. My last job performance rated me as "exceeded expectations" in 90% of the categories. I am a "creative" with a background in web design and scripting language, comfortable with WordPress, HTML and CSS. My education in Photoshop covers print and web graphic design.
As a White Rock based web developer who creates an online presence for small businesses, I bring passion and creativity to everything I produce. I am a web technologist with training in digital media. Although I enjoy coding and graphic design, my mojo is connecting with people, which is why I am looking forward to meeting my clients in person again instead of through Zoom. I love how connected we all are thru Social Media platforms and how more than ever, we are all in this together.
You can find me strolling the White Rock beach, starfish gazing at the end of the pier, or enjoying the local shops and eateries. I embrace every project the same way I choose to live my life, with enthusiasm, joy, and gratitude.
Go old school and give me a call at 604-308-0137 to see how I can make your company shine online.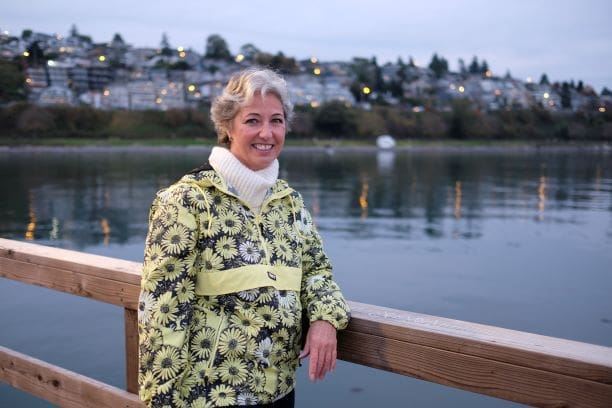 Albert Einstein wrote, "Everybody is a genius. But if you judge a fish by its ability to climb a tree, it will live its whole life believing that it is stupid."
I say "If you don't know TikTok, you are not stupid."