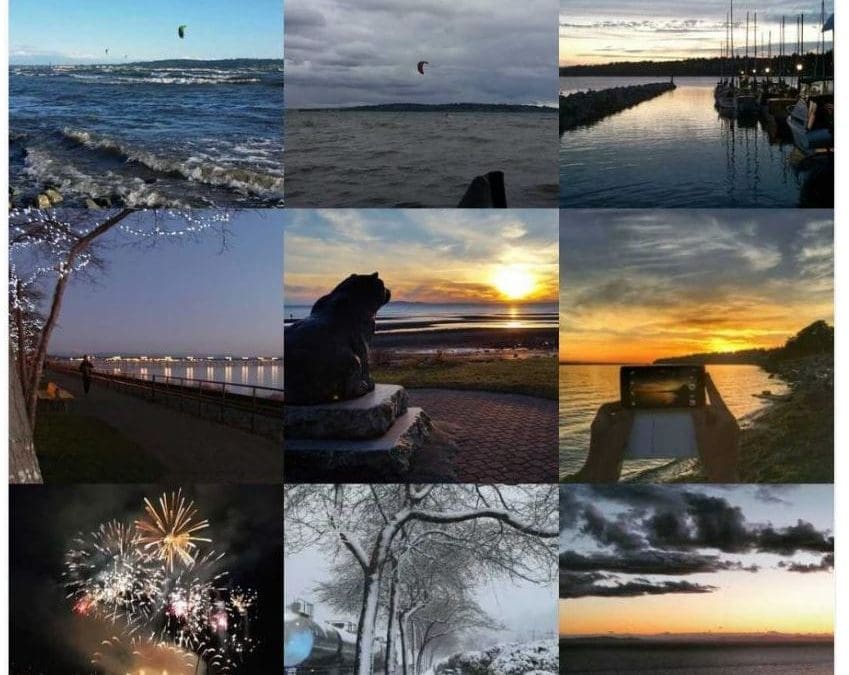 Instagram is a social sharing network mobile app, that you load onto your smart phone for sharing photos and tidbits about your day. It started in 2010, was bought by Facebook in 2012, and has more users than Facebook and Twitter. Insta (instant) Gram (telegram) is an easy way to share photos that you can enhance with built-in filters and simple edits. You can share photos and video real time and add fun stickers with details like location, temperature, time, day and mood. You follow friends and people who align with your interests. People can follow you back and make comments about your photos. They find you with hash tags #.
Even if you don't understand or wish to use Instagram at least set up an account with your branding name to reserve the name for when you decide to join the fun.  My company name is EileenDreams and I missed out on Twitter and got EileenDreamsD – pretty lame. While you are at it, do the same for SnapChat etc if you plan to expand with Social Media….
The easiest way to use Instagram is to use it how it was originally meant to be used:
Take a photo,
Post it,
Add a relevant comment and a couple hashtags.
To Get Started:
Download the Instagram app on your smartphone and sign up for an Instagram account.
Add your profile photo and information. If you are better with a keyboard than a smart phone you can fill in your bio, profile, links, and upload your profile photo on your computer at Instagram.com
Link your new Instagram account to Facebook, Twitter and all your social media platforms and invite your friends to follow you.
There are enough features to edit photos within Instagram itself. There are photo editing tools, filters, tools to level out your horizons, and there is even a rule of thirds grid. Instagram is known for their filters so have fun experimenting with them.
Insanely Simple Photo Editing Sites To Create Memes if you don't like making your own graphics and are just starting out. (Only use this if you really have to because it screams newbie.)
http://www.canva.com/
http://www.picmonkey.com/
I only ever use my own photos and I find great pleasure in taking my own photos. (To each his own.)
If you need photos, try these free sites:
https://unsplash.com/
http://deathtothestockphoto.com/
https://picjumbo.com/
https://www.morguefile.com/
My 2 favourite graphics sites for images and fonts are:
www.Creativemarket.com
www.inkydeals.com/
Take it up a Notch
First, decide what your goal for this Instagram account is and then have a vision of what you want it to look like. Always remember your own personality, voice, and look. While you should stay true to the look and feel of your brand, some Instagram accounts stay so rigid to their brand that they have become boring.  When I started I just wanted to learn how to do it and jumped right in. If you post photos that are not in line with your branding image you can always delete them later while you are still learning. Authenticity is key so don't worry if it's not perfect.
If you want to get fancy with your photo, add text and filters, I use an app that I downloaded to my smartphone called "TextGram". I have tried others but I prefer TextGram because it is simple and it doesn't load a bunch of advertising crap onto my phone. With TextGram you can add text, frames, filters, fancy effects and it is fast on done on the fly.
Have Fun 🙂
Turn on your phone's location. Look at other people's posts and start interacting with them. It is good etiquette to always reply to comments. Manners count just like IRL (in real life).
When I post a meme I always think of Johnathan Christian's advice: ·
"Is it t-shirt worthy?" Sometimes it is just relevant or newsworthy but it helps keep the quality of my posts.
Speak to your Uncle (or ideal customer, or friend). Instagram is all about connecting with real people.
Keep your posts positive. You have to be authentic but people turn to Instagram for an instant feel good feeling and appreciate a little smile.
When desperate for an idea; Cat photos always work. This is a proven fact. Seriously.
Try https://ifttt.com/ to save time if you wish to cross post to your other social media platforms.
Ideas To Increase Engagement
Using the search option is a great way to find like-minded connections. If you view someone's profile and honestly like their photos, they might also enjoy your photos or content and start looking at your posts and may even become a follower.
Take advantage of your profile section with a photo of you, what you do, and the link you want to share. My IG account is a business account but you can set yours up as a personal account and easily change it later if you want to.
When I started I participated in a weekend hashtag project hosted by Instagram. These are fun and always provide an unexpected perspective.
Use #hashtags. (a way to define searches.)
Occasionally there are rumours about Instagram changing the way it feeds. People get in a big panic and post all sorts of things to get to be at the front of a feed. Honestly, unless you have gazillion followers it really doesn't matter unless maybe you are in high school.
Just continue to keep engaged and authentic, and have fun!



This is my Instagram feed if you are curious. Hopefully you see a theme here: